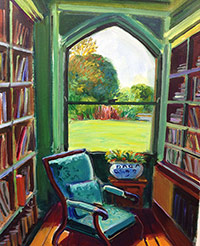 Dennis McGonagle
November 19 – December 17, 2016
Schomburg Gallery is pleased to present works by Dennis McGonagle.

» View works


Artist's Statement

The twenty-six paintings in this exhibit are the product of my six-week residency at the Tyrone Guthrie Centre in County Monaghan, Ireland. Transported by the creative energy that permeated the Centre, I was motivated to paint for eight to ten hours a day between our arrivals on September 1st until our departure on October 15th.

One of the central themes of this exhibit is inside-outside, signifying the juxtaposition of interior and landscape. The breathtaking landscape of the lake and forest as viewed from inside the Tyrone Guthrie mansion are revealed in Dining Room Window. On the other hand, The Poetry Library evokes the warm and inviting space inside the mansion where a person could spend hours absorbed in a book, sunlight pouring in through the window. In Dining Room Window the landscape paintings on the walls compete with the landscape out the window, creating a dreamlike atmosphere.

The cool blue light of Ireland, so different than the warm yellow sunlight of Southern California, fascinated me and influenced my painting. The dramatic cloudscapes in the sky became a backdrop for many of my landscapes and portraits. I found myself being drawn to a much richer variety of green hues and tones in these paintings, as it became clear to me how Ireland earned the name of The Emerald Isle.

Another prominent feature of this show are the portraits and figure studies of many of the residents of the Centre. The Haunted Room is a portrait of a dancer gazing out the window of her bedroom into a mystical sunset. Other portraits use the interior spaces and walls of the Centre as dramatic backdrops.

Color is the most essential design element in my work. In order to energize the composition and communicate a sense of living in the moment, I use a technique of glazing multiple layers of saturated acrylic paint onto my canvasses. I also juxtapose color opposites to create zones of warm and cool that heighten the contrast and turn up the volume of the painting. Finally, in some instances, pointillism and optical blending is employed in order to bring a richness of color to the surface of the canvas.

In order to bring a monumental quality to the composition, I occasionally, take a mural painter's approach to my canvasses, blocking in large, flat areas of color with a broad brush. The vigorous brushwork of this approach adds energy to the painting's surface. The Quiet Man and Kitty the Hare are examples of big painting on a small canvas.

For six weeks I was under the spell of the Tyrone Guthrie Institute. These paintings are a visual record of my time there.